EL AL
2012,
Hamidrasha Gallery of Art, Tel Aviv
"A Kafka-machine is thus constituted by contents and expressions that have been formalized to diverse degrees by unformed materials that enter into it, and leave by passing through all possible states. To enter or leave the machine, to be in the machine, to walk around it, to approach it—these are all still components of the machine itself: these are states of desire, free of all interpretation".

Félix Guattari and Gilles Deleuze - Kafka: Toward a Minor Literature
The placing of a structure within a structure is meant to facilitate navigation. The placing of the machine inside the space is meant to produce minimal friction. It isn't a decoy, it's only the way towards it. The machine does not function in mechanical space, it only outlines the possibility of mechanicalness. The absence of such possibility. The machine pays no attention. It exists in another dimension. Like in Indiana Jones films or Lara Croft video games, the block of the machine is embedded within the architecture. Waiting, perhaps for a thousand years,
for the mechanism to be
deciphered. The mechanism is stuck. It seems nothing will change even if the machine will start running. At best there will be another variation made of the current component. No cause and no effect. Not even a hope for effect. In another dimension the machine is operating nonstop. With great intensity. Powered by uninhibited desire. Opening gaps along an axis.

Archeology of guilt. Where does the guilt go? Where does the body go? Hovering architecture. What is bubbling underneath the statics? Mass is only marked by paper, growing from the ceiling. Like the machine, it's dysfunctional. It can't support, block or define. Has a complicated and non trivial relationship with gravity. Like the machine, architecture never stops operating. But this operation takes place in another dimension as well. Not in space.
Space demands us to experience. Not by becoming a metaphor. Without interpretation. Only by trial and error. Reason is only a default. New skills must be developed. Surface declines, materials meet in a suprising manner. Weight drops.

Boaz Arad
︎ Galia Yahav, Haaretz
EL AL
2012
Shredded black & white laser prints, tape
355 x 291 cm



EL AL
2012
Installation view
I have measured out my life with coffee spoons
2012
Black & white laser prints, tape, door, string, hammer, kitchen scale, lock, clay
Variable dimensions


EL AL
2012
Installation view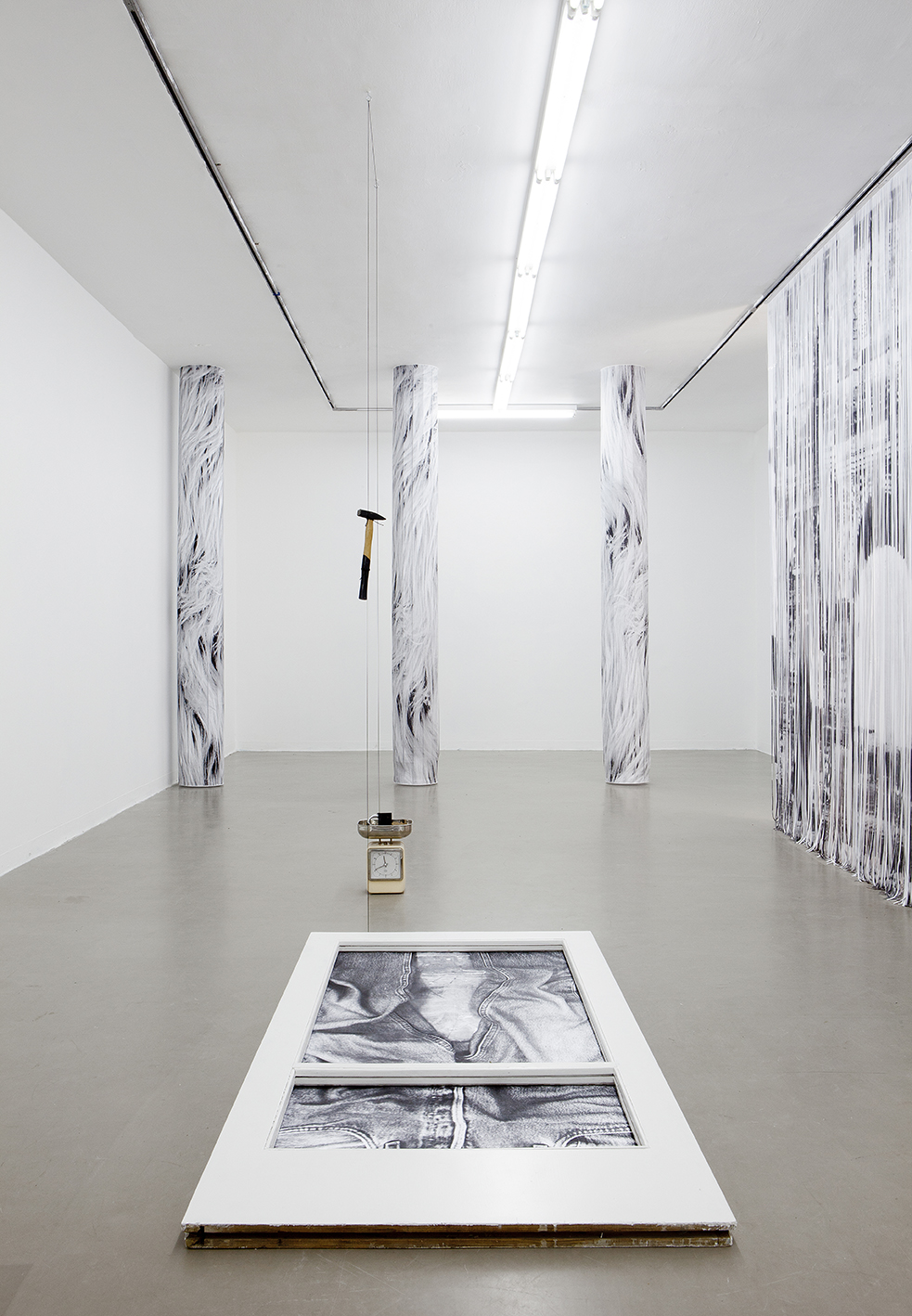 EL AL
2012
Installation view
EL AL
2012
Installation view
Exhibition
2012
Pencil on paper
50 x 70 cm
Madad
2012
Steel handrail, white rope
Variable dimensions