Head Over Heels
2016,
Artport, Tel Aviv
A gym mat made of carefully cut and reassembled venetian blinds; a carpet which pattern is created by a multitude of metal staples individually applied by the artist with a manual stapler; a curtain which fabric consists of metal clips tight one to the other; these are only some of the conceptuallyartisanal and timeconsuming tasks Naama Arad gives to herself in order to create her unique works of art. At the same time the results of these tasks are never immediately showing the amount of energy that the artist invested in their making; quite the opposite they are presented with a degree of nonchalance and carelessness that is deeply organic to Arad's position as an artist. This contradictory position—the artist as laborious maker of objects empty of any functional, social or aesthetic value—becomes even more acute when the result carries a monumental and architectural tone; this is particularly visible in two cases: the first is a series of black lines through which the artist took control of the peculiar shape of the exhibition space hosting her solo show at the Tel Aviv Museum of Art in 2015;
the second is EL AL (2012) in which a found image of a Roman arch is printe—scaled down to 355 x 291 cm—Xeroxed, shredded and finally exhibited hanging from the ceiling.
In her new body of work all the aforementioned issues are still present but at the same time they coexist with a new desire to 'humanize' living and nonlivin forms. Deeply aligned with the current discourse within contemporary
culture—which links artificial intelligence to animism—and yet completely disconnected, Arad's recent oeuvres can be defined as "anatomical détournement"; through these actions a metal dustpan turned into a female foot; a lamp becomes a standing figure, approaching us with its food and brain "on view"; a cactus plant and two Hookah pipes appear to u s in their true phallic shapes. Often constructed through a symbiotic relationship—the clay and the metal, the cactus and the pipes—this new body of work is driven by a unique position that stands between the psychoanalyst and the bricoleur, the artistic and the childish, the apathetic and the emotional.

Nicola Trezzi
Head Over Heels

2016
Installation View
The Valley Spirit Never Dies
2016
Shredded black & white laser prints, tape, air conditioner
100 × 70 cm
Great Aspirations
2016
Cactus, planter, Hookah pipes
90 x 85 x 45 cm
Girl
2016
Pencil on paper, nail, metal, rubber sink stoppers
50 × 70 cm
Handle With Care
2016
Metal dustpan, plaster, acrylic paint
78 x 26 x 34 cm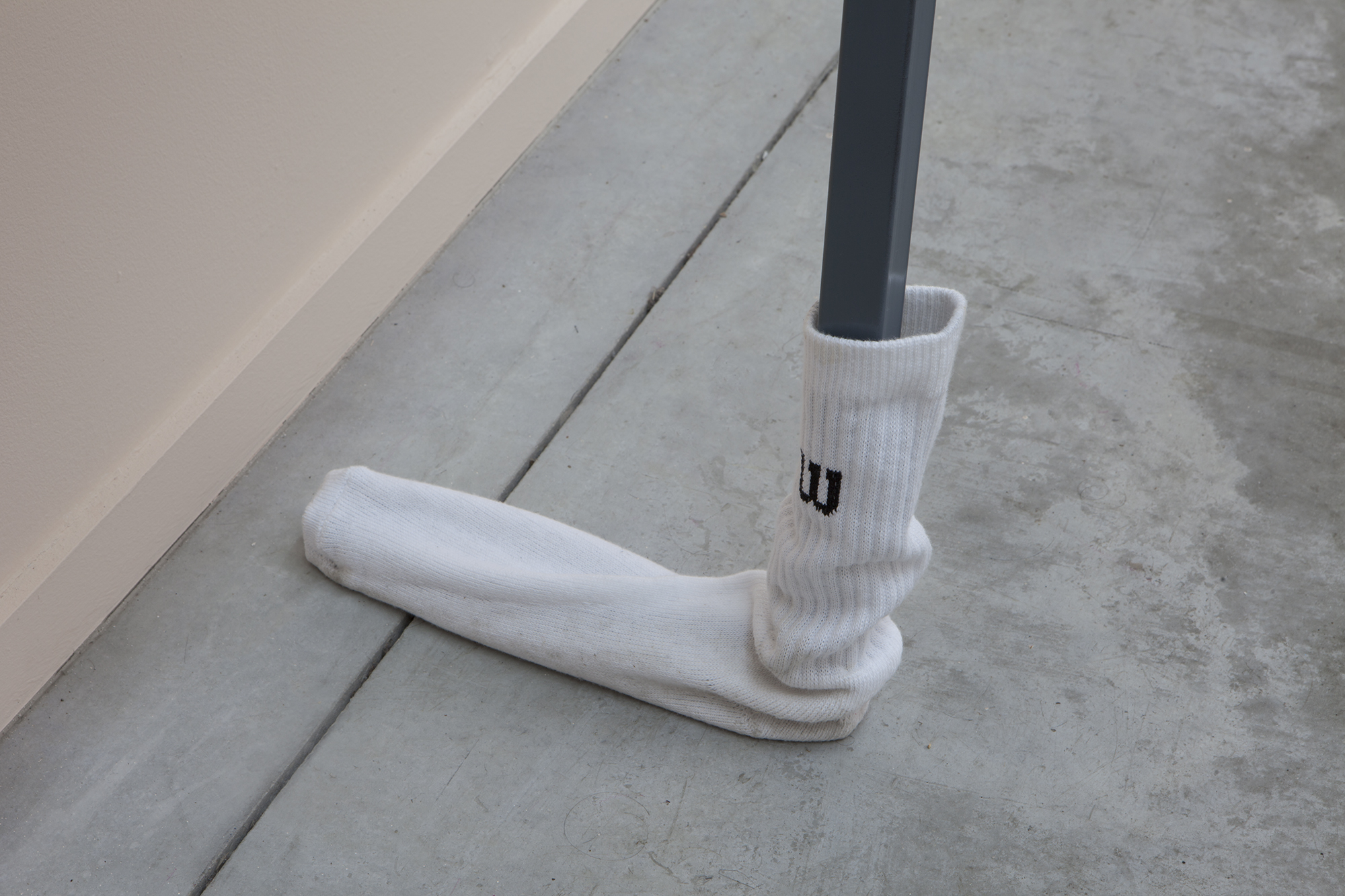 Brother at your side
2016
Steel, foam board, Aluminum venetian blinds, invisible tape, Wilson socks
120 x 30 x 103 cm
Casual Friday
2016
Pencil on paper, folder, ashtray
22.5 x 50 x 7 cm
Head Over Heels

2016
Installation View
#$@&%*!
2016
Clay, thumbtack, plastic bag
15 × 23 cm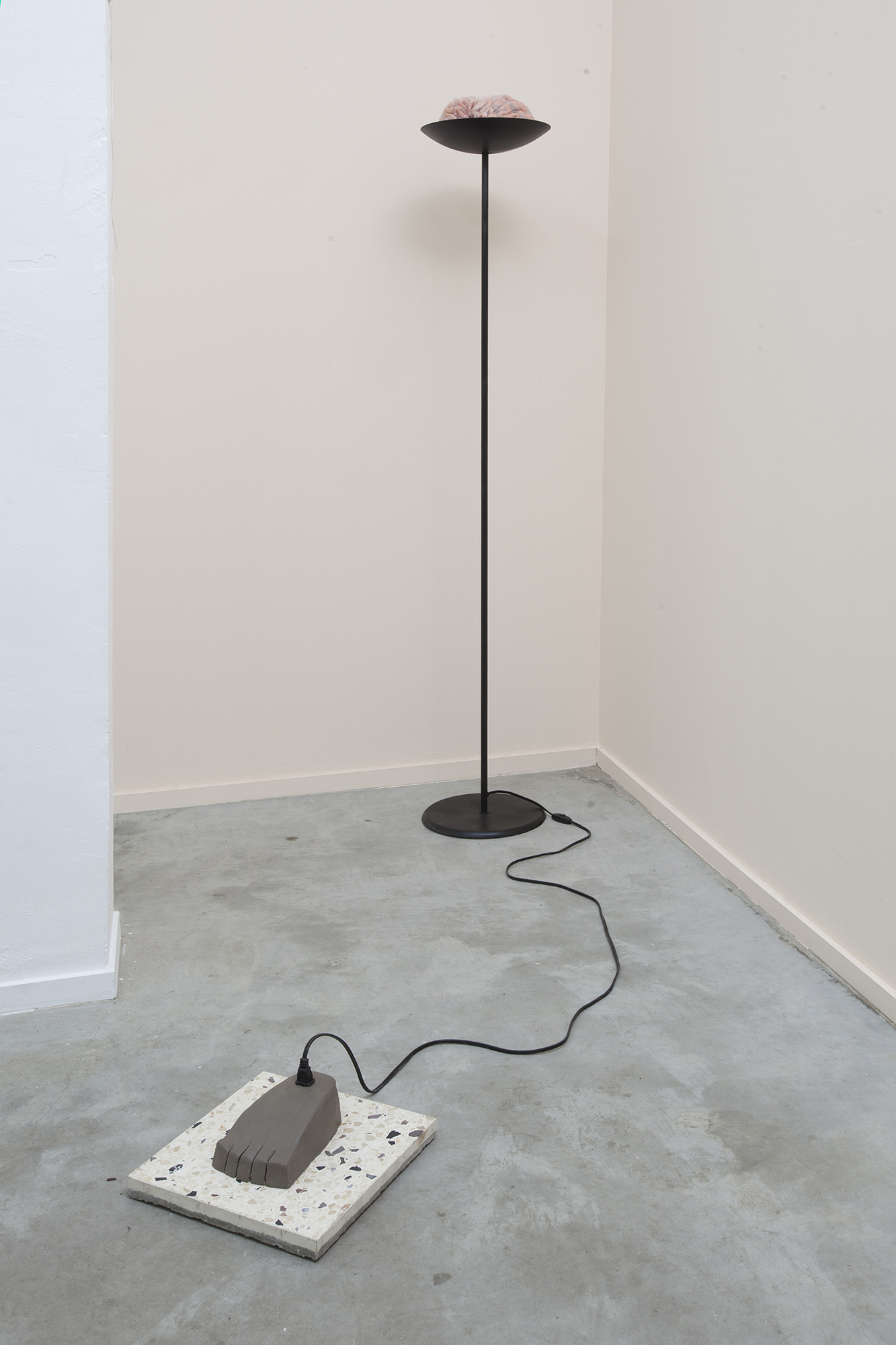 Self Portrait as a Lamp
2016
Lamp, clay, sandwich bags, Terrazzo tile
180 x 180 x 40 cm
Battered Wife
2016
Mixed media
95 x 52 x 10 cm